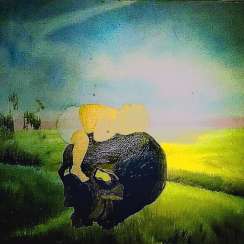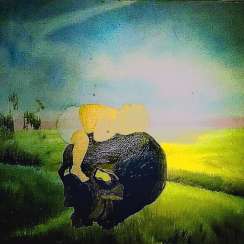 Cognac for the Humming-bird
ID 25695
"Colibri drinks cognac from my glass, in a glass of glare of gold from the flame of a candle. Today I dropped resentment, pain, fatigue with mild shoulder movement..." A translation of my verse written for painting (the original verse is written in Russian, specifically for this painting)...
View details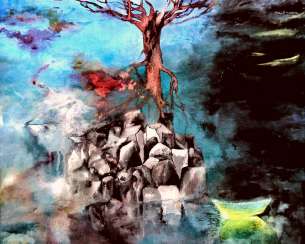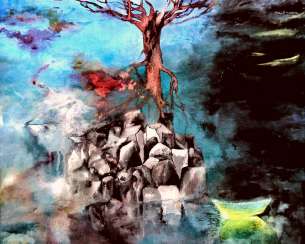 Phantom of the Yellow Boat
ID 25694
Transparent Yello Boat entered quiet waters, a place where fog is soaked in mysticism, where stones form the entrance to a mysterious cave where trees stretch roots to heaven. A boat, as a symbol of someone 's soul, who found eternal calm... The original painting was created by me on canvas wi...
View details
Escape from subconsciousness
ID 22497
"The main victory is a victory over itself" This painting is about winning over your fears, complexes, doubts, depression. Overcoming this, a man breaks free from his inner dungeon and finds that life can be beautiful in various manifestations. There are other worlds, bright, unusual, fan...
View details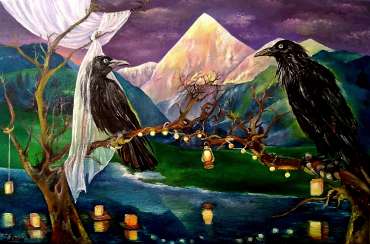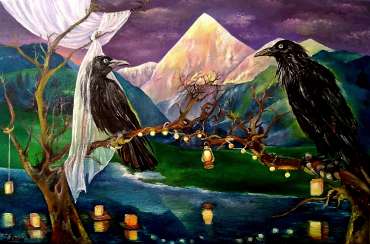 Carrion Crows Wedding
ID 21636
Amazing birds are crows. Clever, wisdom symbol. The crow is a guide to the potty world in some peoples. Love these birds, my creative nickname Crow. I 'm watching them. I saw a silk scarf once that got entangled in branches of wood. The crow sat next. I thought that scarf looked like a wedding ...
View details