"Set copyright buttons." Mixed media 2018
| | |
| --- | --- |
| Condition: | new |
| Location: | Russia, Москва |
| Product availability: | Available |
Set copyright buttons (6 pieces), decorated with rhinestones, semi-balls, synthetic "pearl" and colored lacquer. The size of one of the buttons 2,0x1,3 cm. In box.
| | |
| --- | --- |
| ID: | 14401 |
| Artist: | Alexander Ivlev (b. 1957) |
| Originality: | Original |
| Year of manufacture: | 2018 |
| Applied technique: | Mixed media, See description |
| Size: | 6,1 x 3,9 x 16,2 cm |
| Framing: | Unframed |
| Shipping to: | Worldwide |
| Payment method: | Credit card |
| Delivery method: | Postal service |
| Purchase returns: | No return |
Information about the artist
Родился в 1957г. (г. Москва). Окончил немецкую спецшколу №13. Окончил Московский геолого-разведочный институт, горный инженер-гидрогеолог, кандидат геолого-минералогических наук.
В 1963-69гг. занимался в изостудии при Гос. музее изобразительных искусств им. А.С. Пушкина. В 1983-85гг. обучался на факультете декоративно-прикладного искусства Заочного народного университета искусств в Москве. С 1990г. начал самостоятельную творческую деятельность как ювелир, камнерез, дизайнер. Состоял в разных творческих союзах. Неоднократно участвовал в выставках, преимущественно в России.
Кроме авторских украшений и "декорированных" камней изготавливаю авторские АРТ-БЛЁСНЫ ( с отделкой цветными лаками, стразами, бляшками и т.д.) и ПУГОВИЦЫ. Коллекция арт-блёсен насчитывает сейчас более 500 экспонатов и только часть её демонстрировалась российской публике в рамках конкурса "Ювелирный Олимп" (Санкт-Петербург).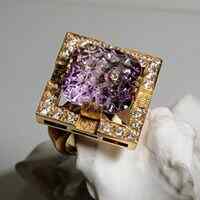 Other works by the artist
Frequently asked questions
Click the button "Contact the artist" on the proposal site.
Transmit Your delivery address and click "Send"
The seller sends You a payment information. After receiving the payment, the seller will send the order to Your address with approval to the conditions.
Click the button "Contact the artist" on the artwork page.
Transmit Your proposed item price and Your delivery address, so the artist can determine the delivery price.
The artist makes an individual price proposal, including the delivery price.
Agree to the proposal and order the item.