Design Painting "Inspiration", Canvas on the subframe, Acrylic paint, Abstract Expressionist, Абстрактное искусство, Russia, 2021
| | |
| --- | --- |
| Condition: | new |
| Location: | Russia, Korolev |
| Product availability: | Available |
It is light, airy, light. The painting "Inspiration". Life itself for me is inspiration, every breath, every moment. This painting is painted with acrylic on canvas 60 × 70 cm.
| | |
| --- | --- |
| ID: | 37930 |
| Artist: | Lyubov Balashova (b. 1982) |
| Originality: | Original |
| Year of manufacture: | 2021 |
| Applied technique: | Acrylic paint, картина на холсте |
| Medium: | Canvas on the subframe |
| Size: | 60 x 70 x 2 cm |
| Framing: | Without framing |
| Style: | Abstract Expressionist, Abstractionism, интерьерная живопсь |
| Genre: | Абстрактное искусство, интерьерная |
| Shipping to: | Within the country, Worldwide |
| Payment method: | Wire Transfer |
| Delivery method: | Postal service |
| Purchase returns: | No return |
| Country of origin: | Russia |
| Object type: | Design Painting (Fine art, Pictorial art, Paintings) |
| Theme: | Golden color, Pink color |
Information about the artist
Меня зовут Любовь.Я художник самоучка.Всегда была творческим человеком.По первому образованию я музыкант,так же экономист,психолог гипнотерапевт.В 36 лет я нарисовала свою первую картину,до этого я вообще не умела рисовать.Результат мне понравился,стала пробовать различные техники,материалы,направления.Научилась рисовать реалистично,но потом вдруг мне стало скучно и тесно рисовать и писать то что знакомо глазу,захотелось уйти от шаблонов и рамок.Захотелось найти себя настоящую в творчестве и я нашла себя в абстракции.Цвет для меня всё.
Я наслаждаюсь цветом,фактурой,различными эффектами,соотношением цвета друг с другом,передаю зрителю свою любовь к цвету ,миру,разнообразию.
Добро пожаловать в мой красочный мир!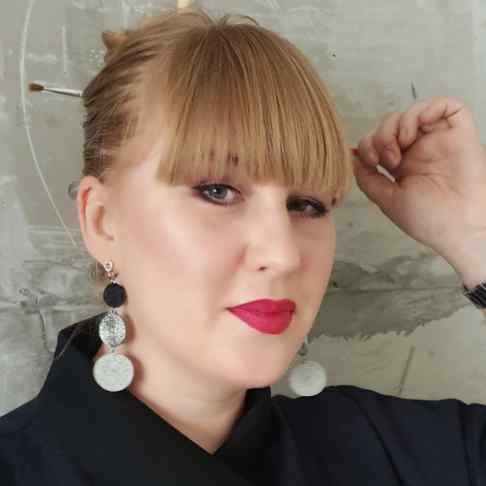 Other works by the artist

Frequently asked questions
Click the button "Contact the artist" on the proposal site.
Transmit Your delivery address and click "Send"
The seller sends You a payment information. After receiving the payment, the seller will send the order to Your address with approval to the conditions.
Click the button "Contact the artist" on the artwork page.
Transmit Your proposed item price and Your delivery address, so the artist can determine the delivery price.
The artist makes an individual price proposal, including the delivery price.
Agree to the proposal and order the item.