"Still life Basket with forget-me-nots" Realist Still life 2018
| | |
| --- | --- |
| Location: | Russia, Санкт-Петербург |
Painting executed from nature in multilayer technique of painting. Size 35 x 45 cm oil on Canvas. Artist Olga Migacheva. Saint-Petersburg.
| | |
| --- | --- |
| ID: | 11990 |
| Artist: | Olga Migacheva (b. 1960) |
| Year of manufacture: | 2018 |
| Size: | 45 x 35 cm |
| Style: | Realist |
| Genre: | Still life |
Information about the artist
Родилась в 1960 году. Детство и юность прошли в российской глубинке Нижегородской
области. .
Мне было 8 лет, когда родители отдали меня в художественную школу. К моему удивлению я
с легкостью выполнила экзаменационное задание и была зачислена в класс, который вел
прекрасный профессиональный художник. Ему я сейчас очень благодарна. Но это было много
позже, а учеба в художественной школе казалась мне тогда откровенно скучной. Бесконечные
композиция, рисунок, акварель и так 6 лет. Тогда я думала, что никогда не буду художником. Как
ни странно, это чувство впоследствии не мешало мне очаровываться и восторгаться отдельными
художниками и картинами. Жизнь сложилась так, что долгое время не было возможности, а,
может быть, и желания заниматься живописью.
Мой внутренний художник затаился и ждал своего часа.
Решил все случай. Познакомилась с художником, работы которого заставили забыть обо
всем кроме живописи. К счастью, он с радостью взялся меня поучить и помочь. «Хорошо, что ты
самоучка», - говорил он мне «и свободна от навязанных шаблонов рисования». Да, я была
свободна от штампов, с которыми, к сожалению, выпускают студентов художественных училищ.
Но надо пройти трудный путь, чтобы освободиться от скованности из- за своей незрелости как
живописца. Большое желание и усердие помогли мне в этом.
Главным в своем изобразительном творчестве считаю отражение в своих работах эмоций и
чувств, связанных с моим восприятием жизни. Я не стремлюсь к фотографической точности в
передаче натуры. Гораздо важнее то, что стоит за внешним проявлением- энергия, настроение,
чувства. Я свободный художник, училась и учусь живописи на частных занятиях с
профессиональными художниками, впитывая их мастерство и опыт.
Сейчас мои работы находятся в частных коллекциях России и за рубежом, где радуют своих
владельцев..
В настоящее время живу и работаю в Санкт- Петербурге. Являюсь членом Союза русских художников.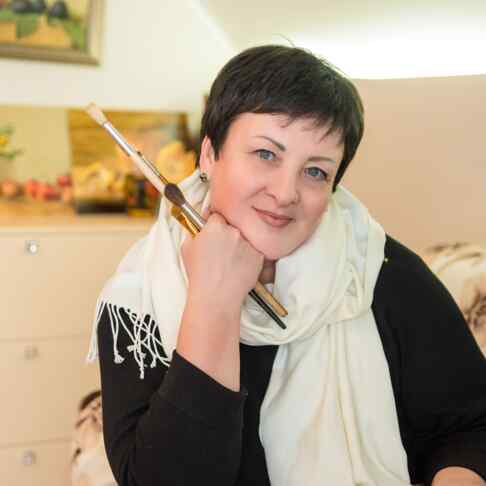 Other works by the artist

Frequently asked questions
Click the button "Contact the artist" on the proposal site.
Transmit Your delivery address and click "Send"
The seller sends You a payment information. After receiving the payment, the seller will send the order to Your address with approval to the conditions.
Click the button "Contact the artist" on the artwork page.
Transmit Your proposed item price and Your delivery address, so the artist can determine the delivery price.
The artist makes an individual price proposal, including the delivery price.
Agree to the proposal and order the item.