Lot 91. BARANOFF-ROSSINÉ, VLADIMIR (1888-1944)
Auction date:
07.06.2017 10:30
BARANOFF-ROSSINÉ, VLADIMIR (1888-1944)

Faune Centaure
Oil on canvas, 77 by 184 cm.

100,000-150,000 GBP

Executed c. 1925.

Provenance: Collection of the artist.
Thence by descent.
Private collection, France.

Authenticity certificate from Dimitri Baranoff-Rossiné, the artist's son.

Vladimir Baranoff-Rossiné's picture Faune Centaure, dated 1925, is an important link between the artist's work of the 1910s and that of the late 1920s and 1930s.

On the one hand, it marks the continuation of a succession of mythological and biblical compositions that Baranoff-Rossiné began in his Orphic works of the mid-1910s, such as Nymphs and Centaurs (1912–1914) and the Apocalypse and Adam and Eve cycles. There is still some similarity in the structure of the figurative and non-figurative elements, which flow rhythmically into one another and in which the lines and colours pulsate, and also in the artist's interest in dynamics. On the other hand, the subject in this work is no longer as important to the artist as it was previously. It is merely a starting point that enables an extravaganza of colour to be created. In the composition and in the principles behind the construction of the actual shapes, one can already sense that the time is soon to come when Baranoff-Rossiné will start to create the curious "biomorphic structures" simulating the dynamics and tension of real-life natural processes, and that abstract compositions will assume the dominant place in his art.

In 1925, since attacks on "leftist" art in the Soviet Union were intensifying, Baranoff-Rossiné decided to emigrate. He made his way to France via Riga and Berlin and settled in Paris, where he exhibited annually at the Salon des Indépendants. The artist continued to experiment: he developed a new visual principle for painting and sculpture, based on the use of the M bius strip, turned to Surrealist images and fashioned multicoloured abstract figures from mixed media.

This is a time when the artist seemed to be at a crossroads. His work is a combination of the different styles current in the cosmopolitan artistic environment of Paris — Post-Impressionism and Cubo-Futurism. In his works, he blends ideas derived from Henri Matisse, Paul Gauguin, Pablo Picasso, Paul Signac, Mikhail Larionov and David Burliuk with the experiments of Robert Delaunay and with the drive towards synaesthesia — a fusion of the visual and musical principles in a single work.

It is to this period in Baranoff-Rossiné's oeuvre that the work offered for sale, Faune Centaure, belongs. Even when its images can be identified — a nude female figure lying with her back towards us, a female silhouette with a guitar, a red horseman on a white steed, the outlines of a human hand and a horse's face, etc. — they are completely devoid of any narrative element and are eye-catching chromatic organisms, generated purely by the imagination of a gifted painter. The images impinge on the viewer by their intense colour, their strange, pulsating rhythm and the eye-dulling, mind-muddling fluidity of their biological and anthropomorphic shapes.

The principles sketched out in this composition will be further developed in the artist's work in the 1930s — in the large, equally dynamic ornamental, abstract adaptations of traditional subjects involving the use of figurative elements (The Martyrdom of St Denis, 1927; Lady Chatterley, 1932, etc.). The "luminous dynamic paintings" of which Baranoff-Rossiné wrote repeatedly in his letters to his friend, the artist Robert Delaunay, do actually encapsulate the singular vision of this Russian avant-gardist, as recorded in such works.

All these factors justify us in regarding Faune Centaure as a vivid embodiment of the ideas, so fascinating to Baranoff-Rossiné, of "dynamic painting" and "total musicality", which interpreted Orphism and Post-Cubism in his individualistic manner.
Information about the auction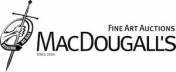 Address of auction
MacDougall Arts Ltd.
33 St James's Square
SW1Y 4JS London
United Kingdom
Business hours
| | |
| --- | --- |
| Mo | 10:00 - 18:00 |
| Tu | 10:00 - 18:00 |
| We | 10:00 - 18:00 |
| Th | 10:00 - 18:00 |
| Fr | 10:00 - 18:00 |
| Sa | closed |
| Su | closed |
Preview
01.06.2017 - 07.06.2017
Shipping
Postal service
Courier service
pickup by yourself
Frequently asked questions
You can buy unsold auction lots as part of a aftersale. As a rule, such a sale lasts 2-4 weeks after the end of the auction. If the aftersale is completed the lots can no longer be acquired. The archive serves as a reference for the study of auction prices, photographs and descriptions of works of art.