Lot 19. GONCHAROVA, NATALIA (1881-1962)
Auction date:
07.06.2017 10:30
GONCHAROVA, NATALIA (1881-1962)


Still Life with Magnolias and a Glass, signed twice, once with initials.
Oil on canvas, 67 by 56.5 cm.

210,000-250,000 GBP

Provenance: Russian Pictures, Sotheby's London, 22 May 2002, lot 176.
Acquired at the above sale by the previous owner.
Private collection, Europe.

Still lifes with magnolia branches and blossom were one of Natalia Goncharova's favourite subjects during her Parisian period. The artist favoured these southern, evergreen flowering trees, with their longish, pointed leaves and compact, resilient petals over any others. Delighting in the fundamental decorativeness nature has bestowed on them, she painted these flowers a number of times – white ones, pink ones; in vases, in jars; with cups of fine china, as though drawing a comparison with the magnolia flower cups. She also used them to decorate screens and wall panels. For this reason, it is not easy to determine exactly when Still Life with Magnolias and a Glass was painted. The still lifes of Goncharova's Parisian period are in general hard to date. In her various canvas series the same subject is handled using different styles at different times, from realistic sketches to almost nonfigurative compositions. There is no rigid sequence in the evolution of her artistic work. The two components of her talent – a devotion to nature and gift for decoration – gave rise to two trends within her Parisian period. The huge number of spectacular bouquets – of magnolias, roses, cherry and apple blossom – were painted from life, to train her hand whenever she had a minute spare, and exist alongside her decoratively arranged natures mortes.

Goncharova produced a whole series of pencil and gouache sketches of still lifes, and compositions with flowering plants and fruit, for the interior decoration of S. Koussevitzky's Parisian mansion in the 1920s and later, in the 1930s, for decorative panels in the houses of M. Kuznetsova and M. Viborg. During this period, plant forms were transformed under her hand into flat multi-coloured silhouettes, at times placed on to surfaces of two contrasting colours, as if the break between them was imitating the line dividing the panels of a folding screen. Later, she used similar decorative compositions in a series of stencils. Their "chequered" style (as one reviewer of Goncharova's exhibitions described it), which was born form the artist's experience withinterior design, became transformed when applied to easel works into a style that is familiar through her paintings of magnolia such as Autumn Flowers and Autumn Flowers, Magnolia.

The small still lifes of flowers painted from life which Goncharova produced in spare moments exist as a continuous leitmotif alongside her interior design projects. These little works which she painted "for herself" were a daily necessity, much like the scales which a pianist must incessantly practice to keep his fingers in good shape.

The compositions of these still lifes frequently only differ in details. If one compares the present lot with Still Life with a Cup, it becomes evident that Goncharova used the same plate and jug but, in her desire to alter the mood without varying the flowers, she not only changed the tablecloth and background, swapping the cup for a wine glass, but also used different colours, transposing the composition into a different chromatic and emotional key. Still Life with Magnolias and a Glass, which is rendered in dense, tactile colours, is a brighter, more festive version of a composition with exactly the same "materiality". Both this work and its darker counterpart with a cup portray the physical forms of the glass jug and sprigs of magnolia standing in it as well as serving as a reflection of the artist's aspiration to "nature" about which Goncharova herself wrote: "in the course of painting joyful images I am able to find new combinations of forms, new combinations of colour ... I am also able to search for abstract formulae, but these are just abstract formulae. The real solution can only be in life itself. An unconscious instinct has been pushing me in this direction."
Information about the auction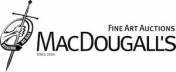 Address of auction
MacDougall Arts Ltd.
33 St James's Square
SW1Y 4JS London
United Kingdom
Business hours
| | |
| --- | --- |
| Mo | 10:00 - 18:00 |
| Tu | 10:00 - 18:00 |
| We | 10:00 - 18:00 |
| Th | 10:00 - 18:00 |
| Fr | 10:00 - 18:00 |
| Sa | closed |
| Su | closed |
Preview
01.06.2017 - 07.06.2017
Shipping
Postal service
Courier service
pickup by yourself
Frequently asked questions
You can buy unsold auction lots as part of a aftersale. As a rule, such a sale lasts 2-4 weeks after the end of the auction. If the aftersale is completed the lots can no longer be acquired. The archive serves as a reference for the study of auction prices, photographs and descriptions of works of art.