Lot 162. Кузнецов, М.С. Сувенирная тарелка в честь коронации Николая II. 1896. Фаянс, подглазурная раскраска. 24х24х4 см.
ID 590008
Клеймо завода «М.С. Кузнецов» на обороте. Незначительные кракелюры глазури. Очень хорошая сохранность.
Товарищество производства фарфоровых, фаянсовых и майоликовых изделий М.С. Кузнецова — одно из крупнейших фарфорово-фаянсовых производств Российской империи конца XIX — начала XX веков. Было основано в 1889 году российским промышленником и предпринимателем Матвеем Сидоровичем Кузнецовым (1846—1911) и просуществовало до 1917 года.
Наборы фаянсовой посуды (кружка, глубокая и мелкая тарелки) предназначались для солдат и сотрудников полиции, которые обеспечивали охрану порядка во время печально известных гуляний на Ходынском поле.
Information about the auction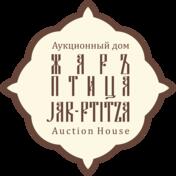 Address of auction
Аукционный дом «Жар-Птица»
ул. Большая Ордынка 17, стр. 1.
115035 Москва
Russia
Preview
28.07.2021 - 30.07.2021
Shipping
Postal service
Courier service
pickup by yourself
Frequently asked questions