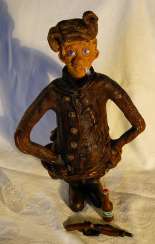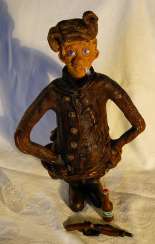 Shaped bottle/bottle "Cowboy from the heartland"
ID 18214
Shaped bottle/bottle - a parody of movies about the "Wild West". Character - a local shepherd Fyodor. Fyodor watched a lot of "cowboy" movies and realized that he was no worse than those on the screen... No colt? But there are old grandfathers shotgun... And a bottle of local whi...
View details
Matrix. The Russian option.
ID 18213
Ceramic sculpture is a parody of the characters of the cult film "the Matrix". Our hero - a local farmer Fyodor imbued in the idea of protecting the World from "electronic slavery"... Made this sculpture of pushkinogorskaya wonderful red clay. Alternatively, it is possible to man...
View details