Original oil painting. Oil on canvas. Signed on the front side and accompanied by a Certificate of Authenticity. The sides are in the colour of painting. The canvas is stretched on a solid wooden frame.
Worldwide shipping with Express Mail Service.
Highly safe packaging with thick foam plastic and thick cardboard.

Normally transportation to Europe takes about 10-15 working days. In United States 15-20 days. Delivery tracking number is provided.
| | |
| --- | --- |
| ID: | 30968 |
| Artist: | Henadzy Havartsou (b. 1963) |
| Originality: | Original |
| Year of manufacture: | 2020 |
| Applied technique: | Oil paint |
| Medium: | Canvas |
| Size: | 100 x 2,5 x 70 cm |
| Framing: | Unframed |
| Style: | Abstractionism |
| Genre: | Everyday life |
| Shipping to: | Worldwide |
| Payment method: | Wire Transfer, Credit card |
| Delivery method: | Postal service |
| Purchase returns: | 14 days |
| Object type: | Painting |
Information about the artist
Геннадий - выпускник Витебского университета Машерова, Беларусь, защитил степень магистра на факультете живописи и графики (1987 - 1992). От своего учителя и наставника Валентины Ляхович он получил самое главное - чувство свободы творчества.
В настоящее время он живет и работает в Витебске, городе, который стал известен во всем мире как место рождения и работы таких выдающихся гигантов авангарда, как Шагал, Кандинский, Малевич, которые были источником вдохновения для Геннадия в течение многих лет.
Художник многое черпает из многочисленных путешествий, так создаются разнообразные пейзажи и абстракции, вдохновленные неповторимыми красками разных уголков мира. Геннадий - ищущий художник, который охотно экспериментирует с новыми техниками письма, постоянно ставит перед собой новые задачи. Преобладающая техника - масло на холсте, выполненное с помощью мастихина и кисти. Стиль Геннадия отличается смелыми линиями, формами и цветами. Вначале он никогда не предполагает, как будет выглядеть картина в итоге, и говорит, что это картина диктует каждый последующий шаг. Абстракция не всегда была любимым стилем художника; самовыражение в такой живописи требовало изменений изнутри и формирования собственного взгляда на мир. Геннадий считает, что этот процесс бесконечен и развивается вместе с жизнью художника. Его работы не налагают никаких ограничений на наблюдателя и не указывают на конкретную точку зрения, а скорее побуждают его создавать свою собственную историю, быть свободным в воображении, что позволяет ему интерпретировать искусство через свои собственные чувства и эмоции.
Его работы представлены во многих частных коллекциях Польши, Германии, Швейцарии, Франции, Великобритании, Израиля, Люксембурга, Португалии, США и других.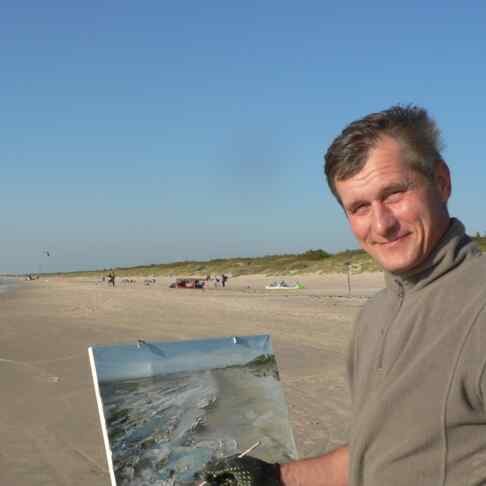 Other works by the artist
Frequently asked questions
Click the button "Contact the artist" on the proposal site.
Transmit Your delivery address and click "Send"
The seller sends You a payment information. After receiving the payment, the seller will send the order to Your address with approval to the conditions.
Click the button "Contact the artist" on the artwork page.
Transmit Your proposed item price and Your delivery address, so the artist can determine the delivery price.
The artist makes an individual price proposal, including the delivery price.
Agree to the proposal and order the item.