Design Painting "Magic Dog Magic Dog", Canvas, Oil paint, Impressionist, Animalistic, 2019
| | |
| --- | --- |
| Condition: | new |
| Location: | Ukraine, Kyiv |
| Product availability: | Available |
The painting "Magic Dog", canvas on a stretcher 15.75x11.81 inches, oil, 2019, Ryabkova Lyudmila.

Who is he Magic Dog?
Animals, unlike humans, have never lost a strong connection with nature, therefore, they can be a kind of connecting link with the universe, which helps a person naturally improve their physical and mental state.
A Magic Dog is a dog that will always quietly watch you, connecting you with the Universe. His golden eye - keeps your secrets and desires. He is always here with you, but only half, the second half of the Magic Dog is there, outside of knowledge, in the vast space where he came from, where he draws strength to be your Guardian Angel.


The Magic Dog will bring you good luck. Above all, talk to him. Entrust him with all your dreams and they will come true!

The picture is small, so fit in any interior. The colors of the picture will also not argue with the already installed interior. Thanks Mystic Dog will respond to the backlight.

The ends of the picture are stained, you can not use a baguette. The thread is fixed, you can immediately hang on the wall.
Please note that the colors in the picture may vary depending on your monitor settings.

Please feel free to ask me any questions and I will contact you as soon as possible.

Картина «Волшебный Пёс», холст на подрамнике 40х30см, масло, 2019 год, Рябкова Людмила.

Кто он Волшебный Пёс?
Животные, в отличие от человека, никогда не теряли мощную связь природой, поэтому могут быть своеобразным связующим звеном со Вселенной, что помогает человеку естественным путем улучшить свое физическое и психическое состояние.
Волшебный Пёс - это пес, который всегда будет тихо наблюдать за вами, связывая вас со Вселенной. Его золотой глаз - хранитель ваших тайн и желаний. Он всегда здесь, с вами, но только наполовину, вторая половина Волшебного Пса за гранью изведанного, в бескрайнем космосе, где он черпает силы, чтобы быть вашим ангелом-хранителем.

Волшебный Пёс принесет вам удачу. Главное, говорите с ним. Доверьте ему все свои мечты и они сбудутся!

Цвета картины удачно дополнят уже установленный любой интерьер. Благодарностью ответит Волшебный Пёс на подсветку.

Торцы картины прокрашены, можно не использовать багет. Нить закреплена, можно сразу вешать на стену.
Обратите внимание, что цвета на картинке могут отличаться в зависимости от настроек вашего монитора.

Пожалуйста, не стесняйтесь задавать мне любые вопросы, и я свяжусь с вами при первой же возможности.
| | |
| --- | --- |
| ID: | 24758 |
| Artist: | Ludmila Riabkova (b. 1973) |
| Originality: | Original |
| Year of manufacture: | 2019 |
| Applied technique: | Oil paint |
| Medium: | Canvas |
| Size: | 2 x 40 x 30 cm |
| Framing: | Unframed |
| Style: | Impressionist |
| Genre: | Animalistic |
| Shipping to: | Within the country, Worldwide |
| Payment method: | Credit card, Paypal, Cash |
| Delivery method: | Postal service |
| Purchase returns: | 7 days |
| Object type: | Design Painting, Painting |
| Keywords: | Animals, Dogs |
Information about the artist
I`m Lyudmila Ryabkova. I was born in 1973 in Kiev, Ukraine.
I graduated technical college and got second higher economic education. I studied at the privat art studio of Ukrainian professional artist. My works find feedback from people, they are bought, it inspires me very much. My workshop is equipped right in my house and it makes possible to work every day. This is the most beautiful thing that happens to me.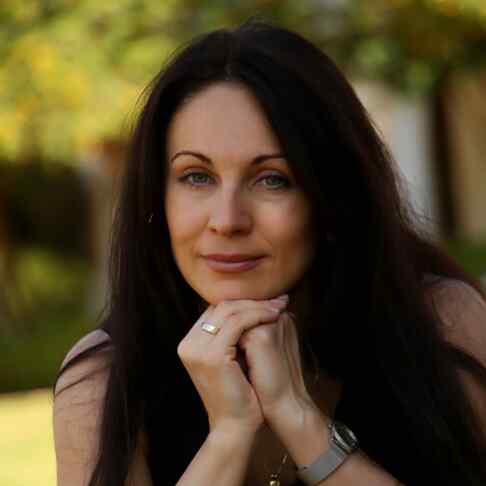 Other works by the artist
Frequently asked questions
Click the button "Contact the artist" on the proposal site.
Transmit Your delivery address and click "Send"
The seller sends You a payment information. After receiving the payment, the seller will send the order to Your address with approval to the conditions.
Click the button "Contact the artist" on the artwork page.
Transmit Your proposed item price and Your delivery address, so the artist can determine the delivery price.
The artist makes an individual price proposal, including the delivery price.
Agree to the proposal and order the item.