Painting "Frog", Canvas, Oil paint, Contemporary realism, Animalistic, Germany, 2018
| | |
| --- | --- |
| Condition: | new |
| Location: | Germany, Eitorf |
| Product availability: | Available |
Картина "Лягушка" написана маслом на хосте на картоне, и сопровождается сертификатом подленности.
| | |
| --- | --- |
| ID: | 36711 |
| Artist: | Svitlana Deutsch (b. 1971) |
| Originality: | Original |
| Year of manufacture: | 2018 |
| Applied technique: | Oil paint |
| Medium: | Canvas, Cardboard |
| Size: | 40 x 1 x 40 cm |
| Framing: | With frame |
| Style: | Contemporary realism, Realist |
| Genre: | Animalistic |
| Shipping to: | Only around the city, Within the country, Worldwide |
| Payment method: | Wire Transfer, Credit card, Cash |
| Delivery method: | Postal service, pickup by yourself |
| Purchase returns: | 7 days |
| Country of origin: | Germany |
| Object type: | Painting (Fine art, Pictorial art, Paintings) |
| Theme: | Animals |
Information about the artist
Зовут меня Светлана Дойч. Родилась я в 1971году в городе Рени (Украина),в 1996году переехала жить в Одессу. С 2001года основную свою деятельность я посвятила Салонному бизнесу,а любимым моим хобби несомненно является исскуство. В 2016году переехала и живу я сейчас в небольшом городке Германии, но часть моей души навсегда останется в любимой Одессе. С самого ранего детства я люблю рисовать и интересуюсь историей искусства. Мои кумиры - Леонардо да Винчи,Тициан и Микеланджело. Рисовала всем чем угодно и на всем подряд. Сегодня мой стиль-это многослойная маслянная живопись. Самый талантливый и бессконечно вдохновляющий меня художник - это несомненно природа. Животные, птицы и их характер не оставляют меня равнодушной, и я безумно счастлива уже тем,что имею возможность выразить это на холсте.
Основное направление моего творчества - реализм и абстракция. Современные произведения искусства и художественные выставки сегодня притягивают и вдохнавляют меня как магнит. Абстракция в моей технике интуетивна и направленна на факруру и пастозность. Картина готова украсить современный интерьер и наслаждаться простыми вещами.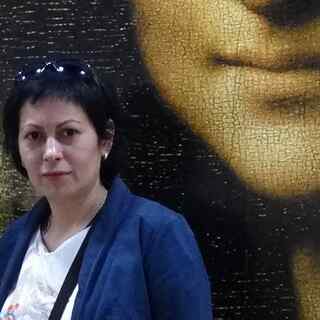 Other works by the artist
Frequently asked questions
Click the button "Contact the artist" on the proposal site.
Transmit Your delivery address and click "Send"
The seller sends You a payment information. After receiving the payment, the seller will send the order to Your address with approval to the conditions.
Click the button "Contact the artist" on the artwork page.
Transmit Your proposed item price and Your delivery address, so the artist can determine the delivery price.
The artist makes an individual price proposal, including the delivery price.
Agree to the proposal and order the item.