Design Painting "Beetle in the sun", Canvas, Oil paint, Impressionist, Animalistic, 2019
| | |
| --- | --- |
| Condition: | new |
| Location: | Russia, Moscow |
| Product availability: | Available |
Жук на подсолнухе. Картина в интерьер.Большой размер.
| | |
| --- | --- |
| ID: | 31678 |
| Artist: | Vjacheslav Vlasov (b. 1964) |
| Originality: | Original |
| Year of manufacture: | 2019 |
| Applied technique: | Oil paint |
| Medium: | Canvas |
| Size: | 100 x 2 x 90 cm |
| Framing: | Without framing |
| Style: | Impressionist, Minimalism |
| Genre: | Animalistic, Landscape painting |
| Shipping to: | Within the country, Worldwide |
| Payment method: | Wire Transfer |
| Delivery method: | Postal service |
| Purchase returns: | No return |
| Object type: | Design Painting (Fine art, Pictorial art, Paintings) |
| Theme: | Flowers, Interiors, Plants |
Information about the artist
Заниматься живописью начал 2008г. по настоящее время, благодаря экономическому кризису. Профессиональный риелтор. Занимаюсь продажами квартир и домов премиум сегмента. В представляемых мной объектов были дорогие интерьеры,выполненные известными мировыми дизайнерами,которые, далеко не редко, оформляли стены (пространства) своими работами. С этого получил первые представления о интерьерной живописи . В кризис бизнес упал. Появилось много свободного времени. Однажды мне был сон, якобы я умею рисовать и писать картины (до этого я никогда не рисовал и не имел представления) и непременно должен стать художником (сон реальный). Брал уроки у профессионального художника. Занимаюсь саморазвитием, активно посещая выставки и галереи,обращая особое внимание на стиль, почерк и индивидуальные манеры художников, а так же в поиске себя,стиля.
Пишу в жанре: интерьер, натюрморт, пейзаж.
Десяток работ находятся в частных коллекциях как в России ,так и за рубежом (Прага,Инсбрук ,Бирмингем).

Писать картины хочу сделать приоритетным для себя делом.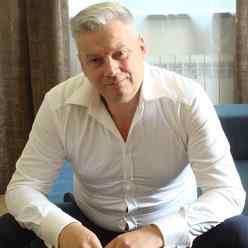 Other works by the artist
Frequently asked questions
Click the button "Contact the artist" on the proposal site.
Transmit Your delivery address and click "Send"
The seller sends You a payment information. After receiving the payment, the seller will send the order to Your address with approval to the conditions.
Click the button "Contact the artist" on the artwork page.
Transmit Your proposed item price and Your delivery address, so the artist can determine the delivery price.
The artist makes an individual price proposal, including the delivery price.
Agree to the proposal and order the item.