"Biology of the universe" Canvas Oil paint Modern Mythological 2019
| | |
| --- | --- |
| Condition: | new |
| Location: | Ukraine, Kiev |
| Product availability: | Available |
is a complex mix of neo-mythological views of the author and of our modern scientific knowledge about the structure of the cosmos and the Earth. According to them, the artist perceives the whole world as a unified whole where all elements are interconnected, no beginning and no end, all contemporaries in a synchronous Universe.
The picture is based on the interweaving of different natural shapes, Recalling the structure of micro - and macrocosm. Touch of archaism lends pastoznaya style of performance and the juxtaposition of local colors.
| | |
| --- | --- |
| ID: | 26608 |
| Artist: | Petro Antyp (b. 1959) |
| Originality: | Original |
| Year of manufacture: | 2019 |
| Applied technique: | Oil paint |
| Medium: | Canvas |
| Size: | 67 x 50 cm |
| Framing: | Without framing |
| Style: | Modern |
| Genre: | Mythological |
| Shipping to: | Worldwide |
| Payment method: | Wire Transfer, Cash |
| Delivery method: | Postal service, pickup by yourself |
| Purchase returns: | No return |
Information about the artist
Petro
Antyp
They say that the future is always hidden in the past. This idea is very close to me, so I am persistent in studying the global, European and Ukrainian history. The beginning determines the system of coordinates for the whole development process. The study of primary sources makes us understand the reality and historical perspectives of humanity and nations.

Actually, we are living in the future now, though have not realized it. The world around us differs drastically from the one we were borne and grown up in. We are living in the transition time, where the old model of humanity is over, while the new one has not been formed yet. I am interested in this crisis state of mind, when a human is trying to perceive the today's metamorphoses of civilization.

To materialize my idea I often turn to the ancient archetypal image of Ukrainian steppe, a stone anthropomorphic stele, which used to be a storage (tomb) of ancestors' souls. Our Ancestors believed in immortality of soul, and their burial ritual was based on the reincarnation idea, the concept of being borne repeatedly. I like a life affirming, and at the same time, mystic character of ancient beliefs. They inspire me to create fancy cosmic worlds with "star showers", structured like cells of biological organisms on the Earth.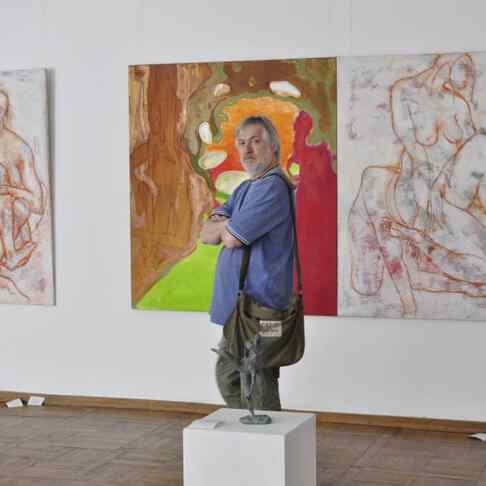 Other works by the artist

Frequently asked questions
Click the button "Contact the artist" on the proposal site.
Transmit Your delivery address and click "Send"
The seller sends You a payment information. After receiving the payment, the seller will send the order to Your address with approval to the conditions.
Click the button "Contact the artist" on the artwork page.
Transmit Your proposed item price and Your delivery address, so the artist can determine the delivery price.
The artist makes an individual price proposal, including the delivery price.
Agree to the proposal and order the item.