Painting "Старый особняк", Copper, Acrylic, Contemporary, Landscape painting, Russia, 2021
Price:
RUB
5700
RUB 5 700
| | |
| --- | --- |
| Condition: | new |
| Location: | Russia, St. Petersburg |
| Product availability: | Available |
Тщательно выписанная, детализированная живопись. Начата на пленэре, доработана в мастерской. На картине изображен главный дом усадьбы Жерновка (арх. Дж. Кваренги), находящийся на окраине Петербурга.
| | |
| --- | --- |
| ID: | 41337 |
| Artist: | Ekaterina Nikidis (b. 1987) |
| Originality: | Original |
| Year of manufacture: | 2021 |
| Applied technique: | Acrylic, Акрил на меди |
| Medium: | Copper |
| Size: | 20 x 15 x 0,3 cm |
| Framing: | Unframed |
| Style: | Contemporary, Contemporary realism, Impressionist |
| Genre: | Landscape painting, Rural landscape |
| Shipping to: | Only around the city, Within the country |
| Payment method: | Wire Transfer, Credit card, Paypal, Cash |
| Delivery method: | Postal service, Courier service, pickup by yourself |
| Purchase returns: | No return |
| Country of origin: | Russia |
| Object type: | Painting |
| Theme: | House, Summer, Особняк, Усадьба, цветущий сад |
Information about the artist
Родилась в 1987 году в Санкт-Петербурге

Образование
— в настоящее время — Санкт-Петербургская Академия художеств им. И. Репина, бакалавр искусствоведения
— 2019 — Художественно-профессиональный лицей им. К. Фаберже, ювелир
— 2009 — Академия ЛИМТУ при Университете ИТМО, специалист по компьютерной графике в полиграфии

Профессиональный путь
Начала художественную практику в 2007 году с обучения академическому рисунку в частной студии. Получив в 2009 году диплом специалиста по компьютерной графике провела следующие 8 лет в сфере графического дизайна.

На протяжении этого времени развивала навыки рисунка и живописи как в цифровом, так и "живом" формате, экспериментировала с материалами, находилась в поиске своего стиля.

В 2016-2019 годах работала в ювелирной сфере и обучалась в художественно-профессиональном лицее по специальности ювелир, получив в итоге диплом с отличием. Следующей ступенью образования стал факультет теории и истории искусств Санкт-Петербургской Академии художеств.

Екатерина создает серии графики и живописи, гравюры, инсталляции. В работах часто фигурируют драгоценные камни и металлы, ювелирные украшения. Источники вдохновения художника - исторические объекты и документы, антикварные предметы и их судьбы, рассуждения на извечные темы красоты, мимолетности жизни, места человека в мире. Особое внимание она уделяет концепции сути прекрасного. Екатерина подчеркивает декоративность ее работ, призывая при этом заглянуть в детали и прочувствовать рассказанную в произведении историю.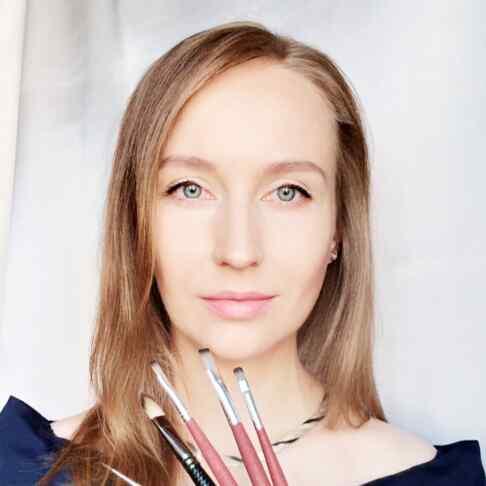 Other works by the artist
Frequently asked questions
Click the button "Contact the artist" on the proposal site.
Transmit Your delivery address and click "Send"
The seller sends You a payment information. After receiving the payment, the seller will send the order to Your address with approval to the conditions.
Click the button "Contact the artist" on the artwork page.
Transmit Your proposed item price and Your delivery address, so the artist can determine the delivery price.
The artist makes an individual price proposal, including the delivery price.
Agree to the proposal and order the item.