User FAQ
The below mentioned answers are some of the most common questions from users:
User registration on VIL
What does the registration give?
By registering on "Very Important Lot" (VIL), you get the opportunity to put up for sale and buy lots and exhibits, exchange the views with other participants of the online platform, write comments, track price changes, learn useful information about upcoming and previous events from the world of art, such as auctions, exhibitions, fairs and other events related to your works of art.
What type of user should I choose?
The choice depends on whether you want to sell a work of art or buy it. Read the proposed types of users and select the appropriate option while registering:
1. Auction house is a legal organization for the sale of works of art at auctions;
2. Antique shop is a legal organization for the presentation of ancient and modern works of artistic value, with the possibility of their sale;
3. Modern gallery is a legal organization for presentation with the possibility of further sale of works by authors of modern and contemporary art;
4. Artist is a master, specializing in a particular type of applied art (painting, drawing, sculpture, photography, etc.), who wants to present and sell their own works;
5. Buyer / Collector is any participant of the trading platform who wants to buy a favourite lot.
How can I open personal account on "VERY IMPORTANT LOT"?
1. Click the green button "Enter" on the right side of the main menu: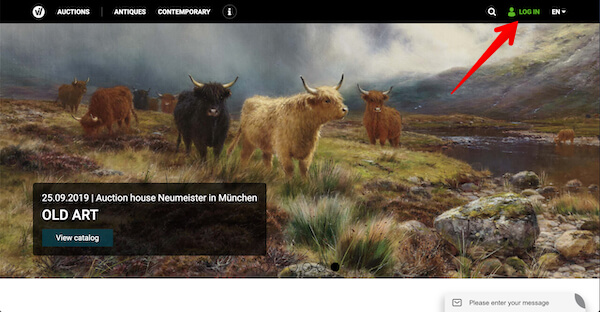 2. You will see a pop-up window to enter your personal account. Click on the button "Register", which is located in the upper left corner of the window: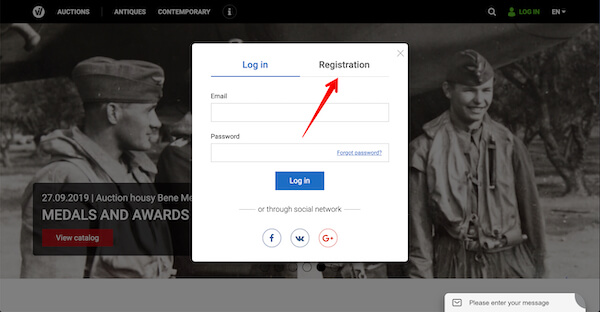 3. Select the appropriate option for registration. Use the tips from the icon "i":
4. Registration through Social networks. Depending on the type of registration you choose, you will be shown a different interface of registration fields. You can register as an Artist or a Buyer using Social networks. Select one of the Social networks and click on the Icon. Registration will take place automatically and take you directly to your personal account: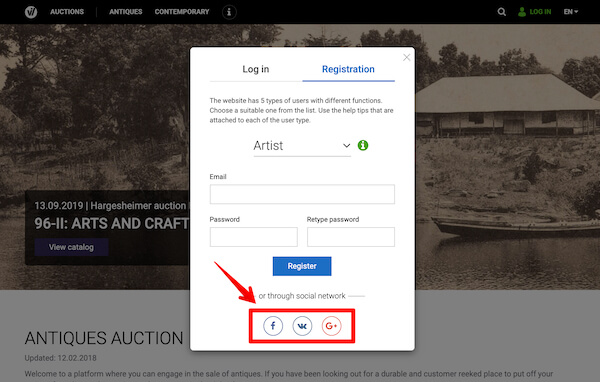 5. Registration via E-mail. Type a valid e-mail address and password in the input field. Click "Register". To complete the registration you need to confirm your E-mail. To do this, click on the link with the code in the e-mail received from us:
How can I delete my account?
Send a written request for deletion of account, specifying your full name, to the address [email protected] The request must be sent from the e-mail address that is linked to your account. The account will be deleted within 48 hours without the possibility of recovery, but with the data preservation for 3 months. If you wish to become a member of the trading platform again, you will need to register and open a new account.